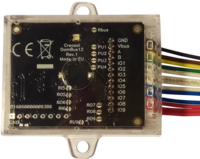 Details

Category: Home automation
Creasol DomBus12 is a compact module, 40x30x11mm, with 9 configurable inputs/outputs.
It can be connected to the Domoticz controller by a RS485 serial bus (4 wires, 2 for 12/24V power supply, and 2 for data at 115200bps).
As other DomBus devices, DomBus12 is designed to consume low power, be reliable, fully configurable and easy to use. Each port is fully configurable, e.g. as analog or digital input, twinbutton (double button), counter, buzzer,  NTC 10k, ... 2 ports may be used as open-drain output, to activate 2 external relays or LEDs.