Details

Category: Security

Centrale gestione allarmi con sensori su tecnologia bus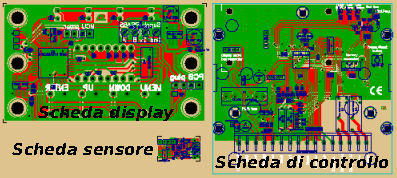 Sistema per la gestione di una centrale d'allarme che comunica via bus con una scheda display per la supervisione e controllo, e con schede remote a cui andranno collegati microswitch (tamper), barriere, ed altri sensori.
Il sistema consente di gestire fino a 100 sensori autoalimentati, e notifica gli allarmi attraverso due relè con possibilità di suddividere i sensori affinché forniscano un allarme immediato oppure ritardato.
La scheda di controllo viene alimentata a 12Vdc, e fornisce alimentazione sia alle schede display sia alle schede remote a cui sarano collegati i sensori, e risulta l'ideale per la realizzazioni di impianti antifurto.
Caratteristiche Tecniche
Power Supply voltage:
11-15Vdc
Communication buses:
2 auto-supplied bus at 40kbps (for sensors), and 1 RS485 (for display boards) at 19200bps
Sensor boards:
Up to 50 sensors for each bus: each sensor board require 3mA of current
Display boards:

Up to 8 display boards

Prodotto da Allmatic
Details

Category: Security
Sistema di sicurezza antifurto ed antivandalismo per parcometri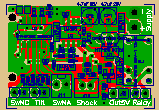 Schede a microcontrollore da applicare a parcometri di vecchia generazione per impedire l'accumularsi di monete (espediente utilizzato per il furto di monete) e per avvertire mediante buzzer da 95dB in caso di tentativo di scasso e vandalismo.
Presentano sensori di movimento e vibrazione (tilt e shock sensors).

Prodotto da 2GPF Elettronica
Details

Category: Security
Sistema monitoraggio e controllo con segnalazione attraverso modulo GSM


Scheda a microcontrollore alimentata a batteria al Pb 12-14V con integrato sistema di ricarica mediante pannello solare (regolatore switching di carica), modulo GSM, elettroserratura e sensori di vibrazione, shock e tamper, utilizzato per notificare il verificarsi di eventi vandalici sulla struttura che lo contiene (parcometri, centraline di monitoraggio ambientale, eccetera).
La scheda risulta ottimizzata per un basso consumo ed un brevissimo tempo di invio SM.
Inoltre, tutti i parametri risultano configurabili da remoto attraverso l'invio, al numero assegnato al modulo GSM, di un SM contenente i parametri da cambiare, previa autenticazione e controllo del numero del mittente.
Caratteristiche Tecniche
Alimentazione:
autonoma, da batteria al Pb 12V, con regolatore switching 12V ⇒ 4V 2A per alimentazione modulo GSM e regolatore lineare 4V → 3V 30mA per alimentazione parte logica
Consumo:
mediamente 6mA, che si riducono a 4mA quando la batteria si scarica oltre un certo limite
Sistema di ricarica batteria:
regolatore switching con uscita limitata in corrente e tensione massima di 14V, adeguata a ricaricare le batterie al Pb, e controllata da microcontrollore
Ingressi:
Shock sensor, vibration sensor, tamper che consentono il rilevamento di tentativi di scasso
Segnalazione allarmi:
utilizzo di modulo GSM per l'invio di Short Messages (via SMS)
Configurazione dispositivo:
inviando un SM opportunamente formattato, e consentendo quindi la configurabilità del sistema anche da remoto

Prodotto da 2GPF Elettronica