Questo tipo di down-converter consente la conversione della banda di frequenze utilizzate per il servizio di audio broadcasting 2350÷2483MHz nella banda 820÷953MHz attraverso l'utilizzo di un mixer doppiamente bilanciato pilotato da un oscillatore locale a 1530MHz.
Caratteristiche Tecniche
Power Supply voltage:
12-13.8Vdc
Power Supply current:
200mA
Input Frequency:
2350÷2483MHz
Output Frequency:
820÷953MHz (fin-1530MHz)
Maximum input signal:
-15dBm
Conversion Gain:
12dB
Noise figure:
<3dB
Phase noise @10KHz:
>130dBc/Hz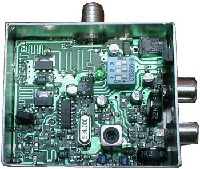 Trasmettitore di un segnale Audio/Video PAL a 1.2GHz in modulazione di frequenza, per uso radioamatoriale.
Caratteristiche Tecniche
Power Supply voltage:
11-13.5Vdc
Assorbimento:
120mA o 220mA
Frequenze:
8 nella banda radioamatoriale 1240-1296MHz
Potenza:
50mW o 300mW selezionabile
Audio:
Sottoportante a 6.5MHz
Larghezza banda
27MHz
Sviluppato software di controllo per multiswitch per applicazioni TV che fornisce, su ciascuna delle 4 uscite, il segnale proveniente dal sistema di ricezione TV terrestre miscelato con uno degli 8 ingressi SAT, selezionato mediante un comando DiSEqC (tono a 22KHz fornito sul collegamento coassiale).
Implementa la possibilità di ritrasmettere la conferma del comando (DiSEqC 2.0).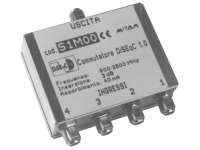 Si tratta di un commutatore di LNB per la ricezione satellitare, che funziona in base ai comandi inviati dal ricevitore satellitare, che sono
Toneburst 22KHz (backward compatibility)
DiSEqC versioni 1.0 e 1.1
DiSEqC versione 2.0 (con risposta)
Il microcontrollore presente nella scheda, le cui dimensioni sono 30x56mm, consente di decodificare i comandi secondo i 3 standard sopracitati: nel caso che il ricevitore satellitare richieda la risposta, questa verra' fornita in base alle specifiche DiSEqC v2.0.
Il sistema viene alimentato e comandato attraverso il cavo coassiale attraverso cui transita anche il segnale RF proveniente dall'antenna parabolica.

Il sistema di alimentazione e trasmissione dei comandi secondo le specifiche DiSEqC risulta utile in tutte le applicazioni in cui con un bus a 2 fili si intenda alimentare una scheda remota nonché effettuare ogni tipo di controllo attraverso una trasmissione half duplex.
Sviluppo software di controllo per convertitore PLL National LMX1601.
In base alla frequenza impostata, viene automaticamente selezionato il valore da attribuire ai due moduli affinché sia minimizzata la frequenza di comparazione, al fine di ottenere una maggiore stabilità ed un minore rumore di fase.
Il seguente dispositivo palmare, alimentato mediante 4 pile AA 1.2V NiMH, implementa un ricetrasmettitore che trasmette un segnale dati con una potenza di 100mW e modulazione Direct Sequence Spread Spectrum, e riceve con sensibilità migliore di -100dBm.
L'obiettivo è di consentire il puntamento di antenne per il WiFi o per altri dispositivi a 2.4 GHz, collegando un palmare per ciascuna antenna.
Una indicazione acustica e visiva, attraverso il display LCD, consentirà di agire agevolmente sul puntamento dell'antenna al fine di ottimizzarne il segnale.

Caratteristiche Tecniche
Frequenze:
2400-2480MHz (2.4GHz ISM Band
Alimentazione:
autonoma, attraverso 4 pile NiMH integrate (4.8V 2000mAh)
Ricarca batterie:
integrato: basta fornire al palmare 8-30Vdc per la ricarica
Modalità ricarica batterie:
circa 8 ore a corrente costante, e poi in modalità trickle
Autonomia:
più di 50 ore, sia in TX che RX
Potenza trasmessa:
20dBm (100mW)
Sensibilità:
-102dBm (2.5uV)
Analisi spettrale:
Indicazione del profilo del rumore per ciascun canale WiFi della banda ISM 2.4GHz
Dimensioni:
226x116x50mm LxWxH
Progettazione dispositivi per comunicazione wireless bidirezionale (ricezione + trasmissione) a 2.4GHz in modalità Direct Sequence Spread Spectrum, per comunicazioni a 16 - 32kbps e 250kbps di tipo short-range (fino a 10 metri) or long-range (con 100mW di potenza, ed una distanza coperta superiore a 100mt con antenna su circuito stampato).
Vengono utilizzati standard di comunicazione proprietari oppure lo standard ZigBee.
Caratteristiche Tecniche
Power Supply voltage:
3.3Vdc
Frequency:
16 channels 5MHz wide, or 78 channels 1MHz wide
Modulation:
GFSK
Power:
tunable by software, up to 4dBm or 20dBm
BitRate
16, 32 or 250kbps
Range:
up to 10m with 4dBm, more than 100m with 20dBm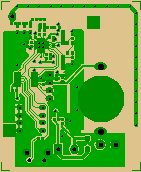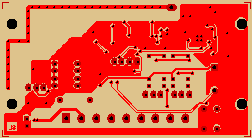 Sistema a basso consumo energetico, alimentato attraverso 2 pile ministilo 1.5V in grado di garantire almeno 2 anni di autonomia (10 anni nella modalità risparmio energetico), in grado di trasmettere lo stato di un bordo sensibile (costa) applicato a persiane, cancelli, eccetera.
Il sistema trasmette periodicamente, ogni secondo, lo stato del sensore, al fine di bloccare la movimentazione nel caso in cui si spacchi il dispositivo remoto (smettendo di trasmettere). Nel caso in cui il sensore cambi stato, la notifica viene trasmessa entro 40mS, in modo da reagire prontamente specie alle situazioni di allarme.
Il sistema wireless è costituito da un transceiver che opera al bitrate di 500kbps, minimizzando quindi il consumo energetico e la probabilità di collisioni, con controllo di flusso (acknowledge), nella banda 868MHz, ma potrebbe analogamente operare a 915MHz e 433MHz.

Prodotto da Allmatic