Palmare per programmare schede di controllo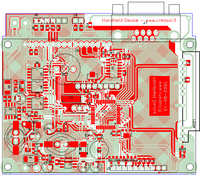 Dispositivo palmare con tastiera e LCD alfanumerico retroilluminato, ottimizzato per ridurre i consumi, utilizzato per la programmazione di dispositivi di controllo (schede a microcontrollori per apricancello, ecc.).
Viene alimentato attraverso due pile ricaricabili NiMH da 1.2V 1500mA, ricaricabili attraverso comuni alimentatori da parete 6-12V 400mA.
Sono implementati dei menu per la selezione del tipo di operazione da svolgere, e consente di effettuare la programmazione delle schede attraverso la comunicazione infrarosso e seriale.
Inoltre implementa un ricevitore OOk a 434MHz o 868MHz per ricevere informazioni dalle schede (che implementano il relativo trasmettitore).
Caratteristiche Tecniche
Alimentazione:
2 pile AA NiMH 1.2V 1500mA
Consumo (retroilluminazione e ricevitore OFF
3-4mA
Consumo aggiuntivo retroilluminazione LCD:
140mA
Consumo aggiuntivo ricevitore:
25mA
Autonomia:
circa 50 ore dalla completa ricarica
Tipo di ricarica:
a corrente costante + trickle mode, gestito dal microcontrollore a bordo; riceve alimentazione dall esterno (6-18V 300-150mA) ed utilizza un convertitore DC-DC buck limitato in corrente e tensione
Tipo di alimentazione interna:
preleva la tensione dalle pile (2.4V) e la converte a 5Vdc attraverso un convertitore DC/DC boost ad alto rendimento
Visualizzatore:
LCD alfanumerico retroilluminato, 4 linee x 16 caratteri: retroilluminazione attivata alla pressione di un tasto e disattivata automaticamente dopo un tempo impostabile di inattività per favorire il risparmio energetico
Tipo di input:
tastiera a 16 tasti + ON
Dimensioni scheda:
86x74mm
Programmatore per microcontrollori Nec 78k/0 e 78k/0S
Economico programmatore per microcontrollori flash Nec per le famiglie 78k/0 e 78k/0S (ad esempio D78F0034, D78F0078, D78F9177, eccetera) compilabile facilmente in tutti i sistemi operativi Posix (praticamente tutti gli *unix) ed utilizzabile anche in windows mediante l'installazione dell'ambiente CygWin.
Consiste in una scheda autoalimentata da collegare alla parallela del Personal Computer, comandata dal software opensource attualmente disponibile per sistema operativo Linux.
Il prodotto è libero, per cui viene distribuito senza alcuna garanzia di funzionamento.
Date le temporizzazioni molto larghe necessarie al microcontrollore per le fasi di cancellazione, blank check, verifica, il software ` stato particolarmente ottimizzato riducendo al minimo le temporizzazioni.
Sono gradite segnalazioni di funzionamento/non funzionamento; inoltre chiunque può contribuire al progetto, essendo questo opensource (distribuito insieme ai sorgenti).
---
Cheap and easy to build MCU programmer for Nec 78k/0 and Nec 78k/0S flash microcontrollers (not OTP), for example D78F0034, D78F0078, D78F9177, ...
It is a simple board connected to the parallel port (centronics) of the PC, controlled by a software runnable in Linux and Windows (using CygWin posix environment). The PC program is opensource, so you can use and change it according to the GPL license.
Anybody who want to change program, or made a binary distribution of it for windows (without cygwin) or other operating systems, is welcome, hoping that he/she'll tell me the modifications done.
Programmatore seriale di 87C5x 89C5x
Scheda da collegare alla seriale del PC per la programmazione parallela dei microcontrollori EPROM/FLASH della famiglia Intel 8051 (solo CMOS!)
Sono stati programmati con successo i seguenti micrcontrollori:
Caratteristiche Tecniche
Atmel AT89C51
FLASH 4Kb 12.5V
Atmel AT89C52
FLASH 8Kb 12.5V
Philips P89C51ubpn
FLASH 4Kb
Philips P89C52ubpn
FLASH 8Kb
Philips P89C54ubpn
FLASH 16Kb
Temic TSC87C51
OTP 4Kb
Temic TSC87C52
OTP 8Kb
Temic TS87C52x2
OTP 8Kb double speed
La scheda consente la programmazione dei lock-bit e dell'encription array, qualora siano presenti.
Il programma di gestione e' disponibile per DOS e funzionante anche in una finestra dos di Windows e Linux.
Programmatore seriale di EPROM
Economico programmatore di eprom basato sul microcontrollore 8051 da collegare alla seriale di qualsiasi personal computer.
Caratteristiche Tecniche
Eprom programmabili:
dalla 2716 alla 27C040 (4 megabit)
Algoritmi supportati:
Tradizionale e Quick Pulse Programming
Connessione al computer:
Seriale RS232 con a velocita` regolata automaticamente fino a 57600bps
Programma di gestione:
Programma DOS eseguibile anche in una finestra MSDOS di Windows
Protezioni:
controllo della corrente di programmazione
Altre possibilita`:
Verifica della eprom, possibilita` di lettura eprom e memorizzazione su disco nei formati Intel e Motorola
Alimentazione:
200-240Vac 50÷60Hz
E' disponibile la descrizione completa con schemi elettrici e layout.
Automatic Test Equipment per la programmazione e collaudo di radiocomandi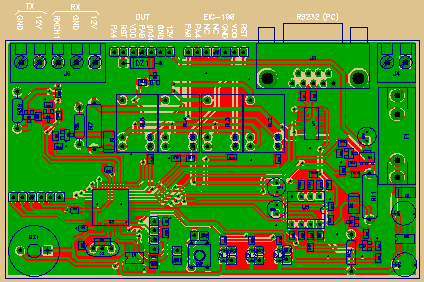 Sistema per la programmazione e collaudo automatico di dispositivi ricetrasmettitori (radiocomandi autoapprendenti): si interfaccia ad un PC per la programmazione del microcontrollore con firmware univoco su ogni microcontrollore, ad una stampante termica per la stampa del codice seriale programmato e della data/firma di collaudo, e poi al dispositivo in test attraverso un letto d'aghi.
Esegue in modo automatico:
alimentazione DUT verificando il livello di corrente assorbita e la tensione stabilizzata
programmazione di un firmware di test
alimentazione DUT ed esecuzione passo-passo del firmware di test con verifica di tutte le funzionalità del dispositivo
segnalazione di errori sulla console del PC, e riproduzione acustica del tipo di errore
programmazione del firmware definitivo personalizzato, in quanto ciascun dispositivo conterrà un codice univoco e quindi ogni microcontrollore avrà un firmware personalizzato/univoco.
Il tempo di collaudo di un singolo pezzo risulta di 500mS più il tempo di programmazione.