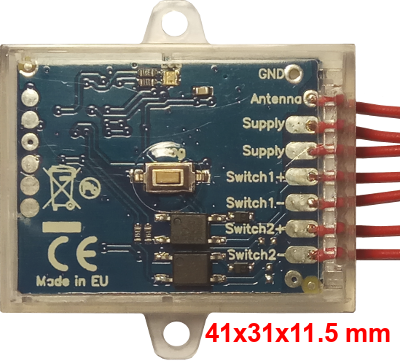 Creasol UniRec12 - 2 channel compact receiver
Introduction
This multi-frequency universal receiver has 2 optocoupled outputs, with 60V and 50mA capability, and can be supplied from 5Vdc to 36Vdc, and from 7Vac to 27Vac.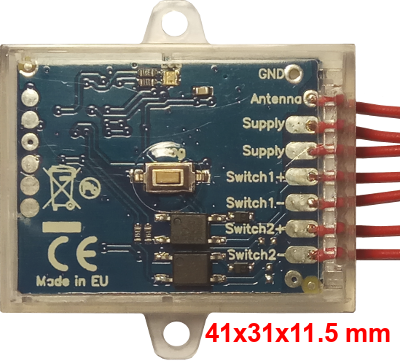 Frequency can be setup easily using the Prog button, as like as the output that can be configured, indipendently for each channel, to hold-to-run, bistable, bistable ON/OFF and timer from 0.5s to 60 minutes.
It supports up to 60 different remote controls in the same receiver, both fixed and rolling code, AM and FM: the maximum number depends by the code length.
Also, it can receive in one or two different frequencies, even with different modulation: for example it can be programmed to manage remote controls working in both AM 433.92 MHz and FM 868.8 MHz.
Creasol UniRec12 can be used to control an electronic board with two pushbutton inputs, or two electronic boards with one pushbutton input/each: for example it can be used to replace non-working receiver in a gate motor driver, or to add a different set of remote controls to an old automation working on low frequencies or using different codings.
Using your existing remote control, it's possible for example to:
open your garage door or gate, using the existing electronic board and receiver;
control other different automations by using one channel of Creasol UniRec12.
This device is not suitable to control power loads such as garden lights, motors, pump: in this case it's possible to use Creasol UniRec2.
The product is made in Europe, provided in a nice transparent resealable recyclable clamshell, with instructions printed in several languages.
We also offer any customization to companies that like to purchase at least 100pcs: please send inquiry by email to This email address is being protected from spambots. You need JavaScript enabled to view it. , specifying company details and special requests.
Features
Can be supplied from 5 to 36Vdc and from 7 to 27Vac.

Frequency selected by the user: 433.42, 433.92, 434.15, 434.42, 868.3, 868.5, 868.8, 315*, 288*, 300*, 303*, 306*, 310*, 318*, 330*, 390*, 403.55*, 418* MHz. Frequencies marked with * cannot be used inside EU. The frequency of the remote control must be stable, so it does not work with remote controls without crystal or saw resonator (some bad remote controls operating around 300 MHz)!

OOK (AM) and FSK (FM) modulation is supported: FM with 2 different deviation value, 12.5 KHz and 25 KHz; AM with standard and narrow bandwidth (higher sensitivity)

Twin frequency receiver: the user can select one or two frequencies/modulations as preferred, so it can receive, for example, at one single frequency or both 433 MHz OOK and 868 MHz FSK, or both 868MHz OOK and 315MHz OOK, or any combination of frequencies.

Works with a wide range of remote controls which transmit fixed or rolling code. See the compatibility table.

Manages different types of remote controls in the same time.

It's possible to learn one or more "master remote controls" that can be use just to enable learning for 10s without the need to access the receiver to press the Prog button.

Low voltage and current contact rating: outputs support up to 60V and 50mA.

Wide output configurations: hold-to-run, bistable, bistable ON/OFF (1 remote control button to activate output, another button to disable output), timer from 250ms to 15 minutes.
Documentation