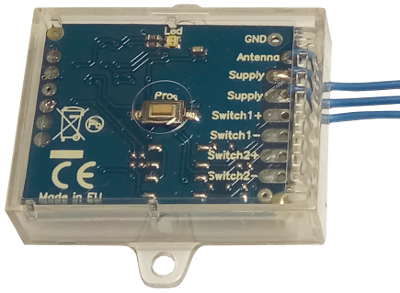 Creasol Sender - Multi-frequency remote control duplicator ext-supplied
Introduction
This small remote control duplicator, only 41x31x11mm, is able to copy from 1 to 4 original remote controls which transmit a fixed code in one of the supported frequencies, listed in the Tab.1.
The frequency, transmission power and other parameters, can be simply programmed using the Prog button. Also, Prog button can be pressed without the need to open the case.
Changing the transmission power is possible to minimize the interference and collisions or maximize the distance.
It can be used open a gate, garage doors or traffic barrier, and it's suitable to be connected to a domotic controller to transmit a code when it's supplied.
It can be connected, through a switch, to an external power supply: a wide range of voltage, 7÷35Vdc and 5÷24Vac, is supported.
When the switch is pressed/closed, the device is supplied and starts to transmit the code that was previously learned.
Also, programming CreasolSender in mode2 or mode3, it's possible to push the power supply switch more times to select the code that should be transmitted, as shown in the following figure.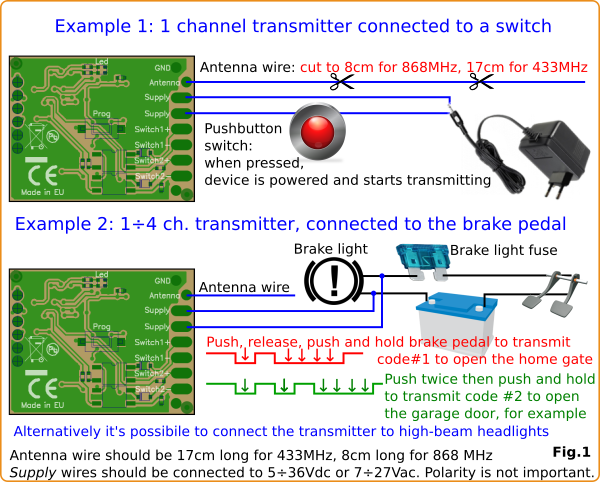 It's supplied in nice transparent-recyclable clamshell with instructions printed in more languages. Companies that would like to purchase this product can send an email to This email address is being protected from spambots. You need JavaScript enabled to view it. specifying the company details, including VAT ID. We can also supply this device with customized instructions.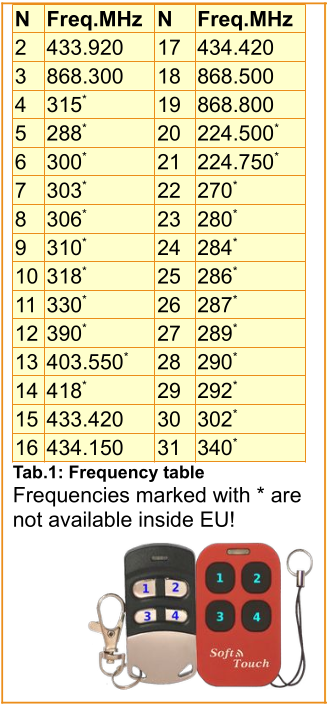 Documentation
Creasol Sender video

---
Application note SENDER_01: Externally-supplied remote control duplicator - Some applications

Download this application note in PDF format
Italiano
Questa nota applicativa mostra alcuni esempi di applicazioni per Creasol Sender, un duplicatore di radiocomandi, che viene alimentato esternamente e iniziare a trasmettere non appena l'alimentazione viene applicata. Può essere utilizzato come un normale telecomando, per aprire cancelli o porte di garage o barriere, all'interno di un'automobile o applicato ad un pulsante di casa. Inoltre può essere utilizzato per trasmettere un codice ad un controller domotico o altro ricevitore, per notificare un evento ed eseguire alcune azioni.
English
This application note shows some example of applications for Creasol Sender, a remote control duplicator which is supplied by external power supply and start to transmit as soon as power supply is applied. It can be used as a normal remote control, to open gates or garage doors or traffic barriers, inside a car or applied to a pushbutton switch in the house. Also it can be used to transmit a code to a domotic controller or another receiver, to notify an event and perform some actions.
Français
Cette note d'application montre quelques exemples d'applications pour Creasol Sender, un duplicateur de télécommande qui est fournie par une alimentation externe et commencer à communiquer dès que l'alimentation est appliquée. Il peut être utilisé en tant que contrôle à distance normale, pour ouvrir des portes ou des portes de garage ou de barrières de circulation, à l'intérieur d'une voiture ou appliqué à un bouton-poussoir dans la maison. Aussi elle peut être utilisée pour transmettre un code à une unité de commande domotique ou d'un autre récepteur, pour notifier un événement et d'effectuer certaines actions.
Deutsch
Diese Application Note zeigt einige Beispiele von Anwendungen für Creasol Sender, eine Fernbedienung Duplizierer, die durch externe Netzteil mit Strom versorgt wird und beginnen, sobald Spannung anliegt übertragen. Es kann als eine normale Fernbedienung verwendet werden, um Tore oder Garagentore oder Traffic Schranken öffnen, in einem Auto oder auf einen Taster im Haus. Auch kann es verwendet werden, um einen Code zu einem domotic Controller oder einen anderen Empfänger zu übertragen, um ein Ereignis zu benachrichtigen und einige Aktionen.
Español
Esta nota de aplicación muestra algunos ejemplos de aplicaciones para Creasol Sender, una duplicadora de control remoto que se suministra con fuente de alimentación externa y empezar a transmitir tan pronto como fuente de alimentación se aplica. Se puede utilizar como un control remoto normal, para abrir puertas o puertas de garaje y barreras de tráfico, dentro de un automóvil o se aplica a un interruptor pulsador en la casa. También se puede utilizar para transmitir un código a un controlador domótico o receptor otro, para notificar un evento y realizar algunas acciones.
Português
Esta nota de aplicação mostra alguns exemplos de aplicações para Creasol Sender, um duplicador de controlo remoto que é fornecido pela fonte de alimentação externa e começar a transmitir logo que fonte de alimentação é aplicada. Ele pode ser usado como um controlo remoto normal, para abrir portas ou portões de garagem ou de barreiras de trânsito, dentro de um carro ou aplicados a um comutador de botão de pressão na casa. Também pode ser utilizada para transmitir um código para um controlador de domótica ou de outro receptor, para notificar um acontecimento e realizar algumas acções.
---
---