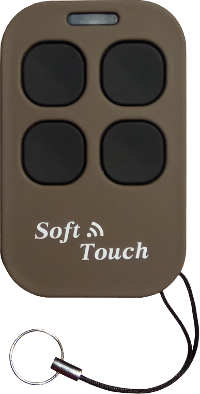 Creasol MultiST: Universal multi-frequency remote control duplicator with soft-touch casing
Creasol MultiST: Duplicate your remote controls easily!!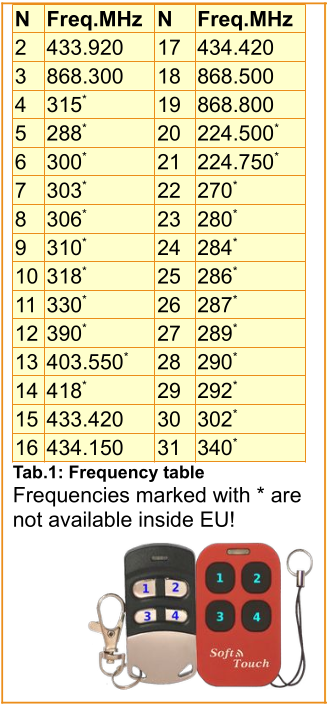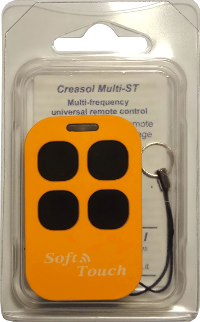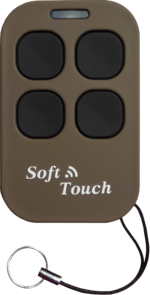 Like Creasol Multi, same firmware and price, but light-weight (only 16g), soft-touch cover and longer range at 433.92MHz (optimized for 433MHz).
This remote control is able to copy several types of remote control for gates, garage doors, traffic barriers, which transmit in frequencies between 286 and 868 MHz (433.92, 868.3, 315, 403.55, 418MHz, and all frequencies between 286 and 390 MHz). Range from 286 to 418MHz is not enable for EU market.
Duplication is very easy: both frequency and code are learned automatically, without the need of external equipment.
Each button is independent, so it's possible to clone up to 4 different remote controls, even if they transmit in different frequencies. For example, you can program CAME TOP432 (433.92 MHz) on button 1, HORMANN HSM4 (868.3) on button 2, LIFTMASTER 63LM (390 MHz) on button 3 and LINEAR Multicode (300 MHz) on button 4.Any supported code and frequency combination is possible. Look at the compatibility table!
The remote control is made in EU, supplied in a nice transparent resealable recyclable clamshell, with instructions printed in several languages, 3V battery already installed, mobile strap, and 2 years warranty.
Available in different colors.