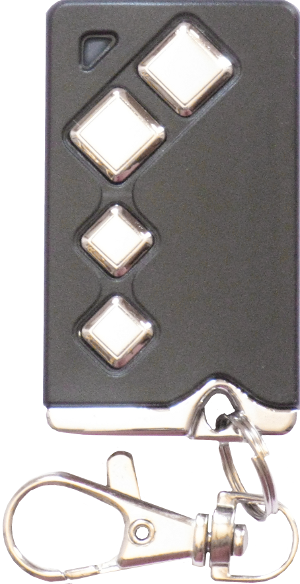 Creasol Four - Universal remote control duplicator 433.92 MHz
Introduction
This device is able to duplicate several types of remote control for gates, garage doors, barriers, which transmit in the frequency 433.92 MHz with OOK/ASK modulation. Each button is independent, so it's possible to clone up to 4 different remote controls, even if made by different manufacturers.

Duplication
Duplication is very very easy, and do NOT require any external equipment (frequency counter, programming machine, sniffer):
Press together buttons 1 and 2, until LED becomes green.
Release all buttons.
Press the button where you wish to duplicate the original remote control.
Start to transmit by pressing and holding the button on the original remote control, keeping in touch with the duplicator.
When duplication ends, LED flashes 2 times in case of fixed code, or 4 times in case of rolling code. Then LED becomes green and duplication procedure restart from point 3.
After duplication, each button should be pressed at least 2 times to assure that the gate or garage works correctly.
Initialization of a random 32 bit code
Follow the instructions below to set a new random code on one or more buttons:
Press together buttons 3 and 4, until LED becomes green.
Release all buttons.
Press twice the button where you wish to initialize the code.
The remote control emits 2 flashes, then it's possible to initialize a new random code on another button restarting the procedure from point 3.
This feature is useful mainly for two reasons:
Remove a previously stored code from the remote control, for example after showing to a customer how duplication work.
Program a random code that will be used to program a universal receiver, or any receiver that manages the 12bit type code.
Battery status and replacement
If, during transmission or duplication, both LEDs blink (red and green), the battery voltage is low: in this case the battery should be flat, or the temperature too low. In the first case, the enclosure should be opened loosening the 2 screws, picking up the board and replacing the existing battery with a new 27A alkaline battery (12V 20mAh).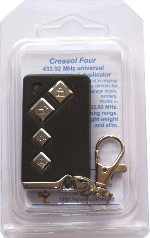 Product look
The remote control duplicators is sold in blister, with printed instructions in many languages. It's supplied 100% tested and working, with the battery inside, and both snap hook and key ring.
Instructions can be customize with the preferred languages, brand and model name, logos, even for small quantities.
Other documents