Introduction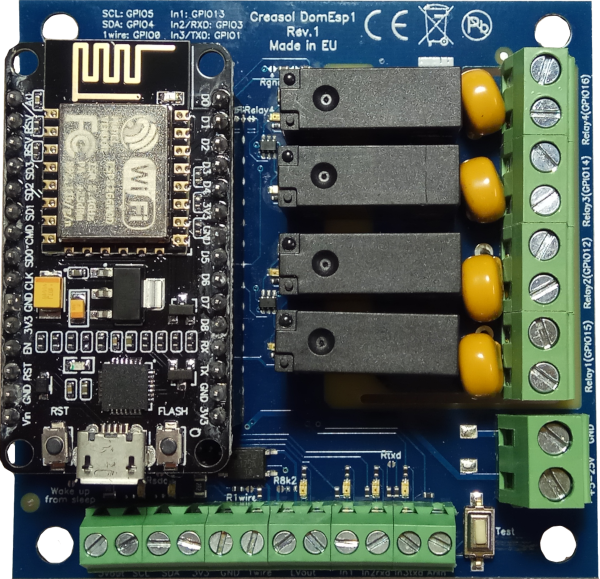 ESP8266 is a very powerful and cheap MCU equipped with WiFi transceiver, very useful to expand inputs/outputs of a Raspberry/Domoticz controller.
Creasol DomESP1 board is designed for ESP8266 module NodeMCU V3, with 900 mils header pitch, and integrates the whole circuitry to manage digital inputs, one analog input, 4 relay outputs, 1 low voltage output, I2C bus, 1wire bus and optionally one serial port (UART).
The LEDs on every input, output and bus, permit to check the status of the board and found any problem on wire connections or firmware configuration: LEDs are enabled by pressing the button Test .
The LEDs enable feature and the switching mode power supply lead to a full control of inputs/outputs with an optimized power consumption.
We recommend to program ESP8266 module using ESPEasy firmware, to make it suitable for Domoticz controller, one of the most DIY controllers for home automation systems.
It's possible to purchase:
the plain DomESP1 board: the client should purchase and program by himself the ESP8266 module, 900 mil header pitch;
the DomESP1 board, with the ESP8266 module already programmed with the latest ESPEasy firmware.
Any customization you need, please contact us: we normally provide customizations even for small quantities.
Features
4 relay outputs (250V 5A switch capability with non-inductive load. In case of inductive load, switch current is lower)
1 low voltage output (60V 100mA capability)
1 analog input
1 digital input
2 digital inputs shared with asyncronous serial port (if needed)
I2C bus
1wire bus
switching mode power supply, to reduce power consumption/dissipation, with 5-25Vdc input voltage
5Vdc and 3.3Vdc outputs available on the terminal blocks
current consumption in standby: typically 80mA @5Vdc, 40mA @12Vdc, 20mA @24Vdc
Installation
It's possible to find documentation of the installation process (firmware download, and device configuration) at the address https://www.creasol.it/domesp1conf
Instruction manual


Application notes
Creasol DomESP1 connected to a central heating system
The following diagram shows how to connect some temperature/humidity sensors by 1wire bus to monitor room and water temperatures; ESP8266 controls one low voltage output to enable/disable the heating system, and 3 outputs to enable/disable 3 pumps or valves.
This is just an example. Through the WiFi connection, the ESP8266 module installed on this board will communicate temperatures to Domoticz controller, which will enable/disable the central heating system controlling the 3 heating zones by enabling/disabling the corresponding pump.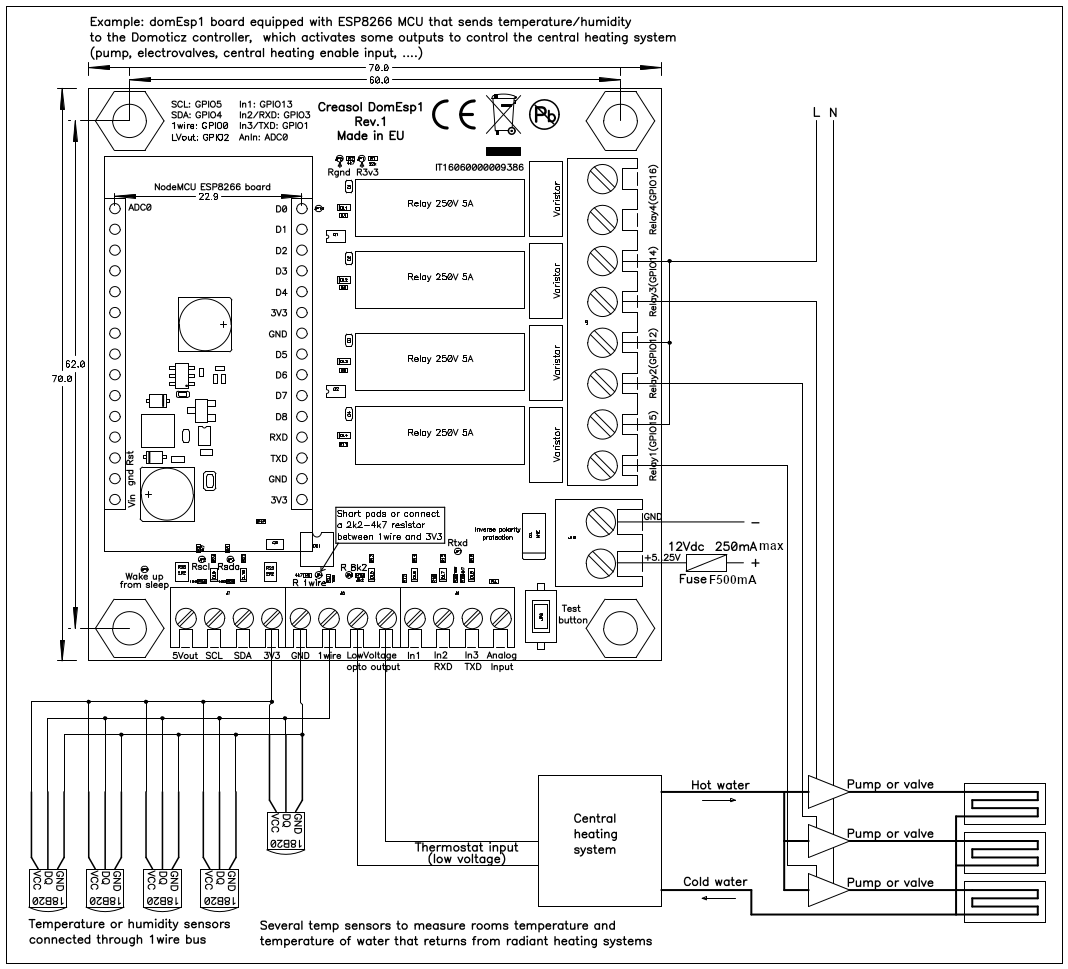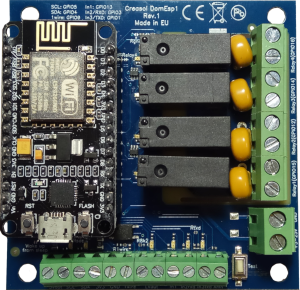 product_id=133