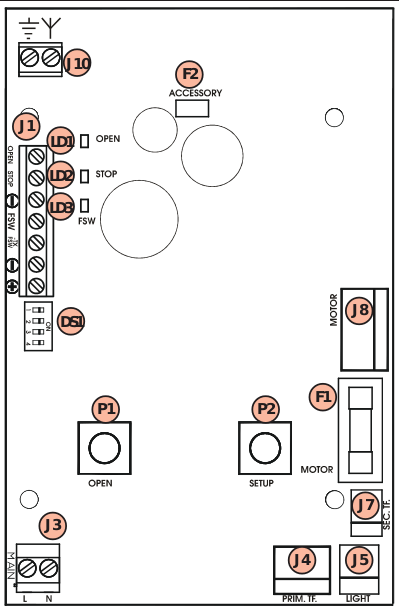 Connect Supply wires to the + and - connectors (24Vdc)
Connect Switch+ wire to the OPEN connector
Connect Switch- wire to the - connector
Only if the frequency should be different from 433.92 MHz, press 5 times button Prog, wait for LED flashing, then press N times button Prog to set the new frequency: N=3 for 868.3MHz, 4 for 315MHz, ...
Press 2 times button Prog to enter learning mode: led start flashing. Start to transmit (from the remote control you'd like to use) within 10s: Led flashes 2 or 4 times if the new transmitter was learned, or 3 times if the transmitter was already learned
Learn again any other different remote control, if any


Application note with some diagrams
Instructions for Creasol UniRec1
FAAC 531 controller board includes a receiver that can be used with FAAC SLH rolling code transmitters.
If you need to control this automation by another remote control, because you need to control more automations with the same remote control, you can easily connect a Creasol UniRec1 receiver following the instructions below.
After doing this, you can program the UniRec1 receiver to learn your remote control (it can learn almost any remote control in the market, both fixed and rolling code) and all should work perfectly. Look at the instructions below: very easy, isn't it?
---

La scheda FAAC 531 comprende un ricevitore che può essere utilizzato con radiocomandi rolling code FAAC SLH.
Se avete bisogno di controllare l'automazione da un altro telecomando, perché avete bisogno di controllare più automazioni con lo stesso radiocomando, è possibile collegare facilmente un ricevitore Creasol UniRec1 seguendo le istruzioni riportate di seguito.
Dopo questa operazione, è possibile programmare il ricevitore UniRec1 per apprendere il telecomando (si può apprendere quasi qualsiasi telecomando, sia a codice fisso che rolling code) e tutto dovrebbe funzionare perfettamente. Guarda le istruzioni sottoriportate: molto facile, non è vero?
---

FAAC 531 Controller-Platine enthält einen Empfänger, der mit FAAC SLH Rollingcode Sendern verwendet werden können.
Wenn Sie diese Automatisierung durch einen anderen Fernbedienung zu steuern, brauchen, weil Sie mehr Automatisierungen mit der gleichen Fernbedienung steuern möchten, können Sie ganz einfach einen Creasol UniRec1 Receiver folgen Sie den Anweisungen unten.
Nachdem Sie das getan haben, können Sie programmieren die UniRec1 Empfänger Ihrer Fernbedienung (es können fast jede Fernbedienung auf dem Markt, sowohl feste als auch Rolling Code lernen) zu lernen und alles sollte perfekt funktionieren. Schauen Sie sich die unten stehenden Anweisungen: sehr einfach, nicht wahr?
---

FAAC 531 carte contrôleur comprend un récepteur qui peut être utilisé avec les émetteurs FAAC SLH roulant.
Si vous avez besoin de contrôler cette automatisation par une autre télécommande, car vous avez besoin de contrôler plus automatismes avec la même télécommande, vous pouvez facilement connecter un récepteur Creasol UniRec1 en suivant les instructions ci-dessous.
Après avoir fait cela, vous pouvez programmer le récepteur UniRec1 d'apprendre votre télécommande (il peut apprendre à peu près n'importe quelle télécommande sur le marché, à la fois fixe et rolling code) et tout devrait fonctionner parfaitement. Regardez les instructions ci-dessous: très facile, n'est-ce pas?
---

FAAC 531 tarjeta del controlador incluye un receptor que puede utilizarse con los transmisores FAAC Rollingcode SLH.
Si usted necesita para controlar la automatización de otro mando a distancia, ya que es necesario controlar más automatizaciones con el mismo mando a distancia, usted puede fácilmente conectar un receptor Creasol UniRec1 siguiendo las instrucciones de abajo.
Después de hacer esto, usted puede programar el receptor UniRec1 para aprender el mando a distancia (se puede aprender casi cualquier control remoto en el mercado, tanto fijo como con código variable) y todo debería funcionar perfectamente. Mira las instrucciones a continuación: muy fácil, ¿no?
---

FAAC 531 da placa de controlo inclui um receptor que pode ser utilizado com os transmissores rollingcode FAAC SLH.
Se você precisa controlar essa automação por outro controle remoto, porque você precisa para controlar automações mais com o mesmo controle remoto, você pode facilmente conectar um receptor UniRec1 Creasol seguindo as instruções abaixo.
Após fazer isso, você pode programar o receptor UniRec1 para aprender o controle remoto (que pode aprender quase qualquer controle remoto no mercado, tanto fixa como rolling code) e tudo deve funcionar perfeitamente. Olhe para as instruções abaixo: muito fácil, não é?
---

FAAC 531 контролер борда, включва приемник, който може да се използва с предаватели FAAC rollingcode SLH.
Ако имате нужда да се контролира този автоматизация от друг дистанционен контрол, защото трябва да се контролират повече автоматики със същото дистанционно управление, лесно можете да свържете Creasol приемник UniRec1 като следвате инструкциите по-долу.
След като направите това, можете да програмирате UniRec1 приемник, за да научите вашето дистанционно управление (това може да се научи почти всяко дистанционно управление на пазара, както на фиксирани, така и подвижен код) и всичко трябва да работи перфектно. Виж инструкциите по-долу: много лесно, не е тя?
---

FAAC 531 Řadič obsahuje přijímač, který může být použit s vysílači FAAC rollingcode polodlouhosrstých.
Pokud potřebujete ovládat tuto automatizaci jiným dálkovým ovládáním, protože musíte ovládat více Pohony se stejným dálkovým ovladačem, můžete snadno připojit Creasol UniRec1 přijímač podle následujících pokynů.
Poté, co toto, můžete naprogramovat UniRec1 přijímač se naučit dálkový ovladač (lze naučit téměř žádný dálkový ovladač na trhu, a to jak pevné a rolovací kód) a vše by mělo fungovat perfektně. Podívejte se na níže uvedených pokynů: velmi snadné, že?
---

FAAC 531 kontroler za glačanje uključuje prijamnik koji se može koristiti sa FAAC SLH rollingcode odašiljača.
Ako trebate kontrolirati ovu automatizaciju drugom daljinskom upravljaču, jer trebate kontrolirati više automatizaciju s istim daljinskim upravljačem, možete jednostavno povezati Creasol UniRec1 prijemnik slijedeći upute u nastavku.
Nakon toga, možete programirati UniRec1 prijemnik naučiti svoj ​​daljinski upravljač (to može naučiti gotovo bilo daljinski upravljač na tržištu, kako fiksne i valjanje kod) i sve bi trebalo raditi savršeno. Pogledajte upute u nastavku: vrlo jednostavno, zar ne?
---

FAAC 531 styrekort inkluderer en modtager, der kan anvendes med FAAC SLH rollingcode sendere.
Hvis du har brug for at kontrollere denne automatisering af en anden fjernbetjening, fordi du har brug for at kontrollere mere automatiseringer med samme fjernbetjening, kan du nemt tilslutte en Creasol UniRec1 receiver følge instruktionerne nedenfor.
Når du har gjort dette, kan du programmere UniRec1 modtageren til at lære din fjernbetjening (den kan lære næsten en fjernbetjening i markedet, både faste og rullende kode), og alle bør arbejde perfekt. Kig på anvisningerne nedenfor: meget let, er det ikke?
---

FAAC 531 ohjainkortti sisältää vastaanottimen, jota voidaan käyttää FAAC SLH rollingcode lähettimiä.
Jos haluat hallita tätä automaation toisen kaukosäätimellä, koska sinun täytyy ohjata enemmän Automations samalla kaukosäätimellä voit helposti kytkeä Creasol UniRec1 vastaanotin seuraavien ohjeiden mukaan.
Kun teet tämän, voit ohjelmoida UniRec1 vastaanottimen oppia kaukosäädin (se voi oppia melkein mitä tahansa kaukosäätimen markkinoilla sekä kiinteiden ja liikkuvan koodi) ja kaikkien pitäisi toimia täydellisesti. Katso ohjeita: erittäin helppoa, eikö?
---

FAAC 531 πλακέτα ελέγχου περιλαμβάνει ένα δέκτη που μπορεί να χρησιμοποιηθεί με FAAC πομπούς rollingcode SLH.
Αν χρειαστεί να ελέγξουν αυτή την αυτοματοποίηση από άλλο τηλεχειριστήριο, γιατί θα πρέπει να ελέγχει περισσότερο αυτοματισμούς με το ίδιο τηλεχειριστήριο, μπορείτε εύκολα να συνδέσετε έναν δέκτη Creasol UniRec1 ακολουθώντας τις παρακάτω οδηγίες.
Μετά από αυτό, μπορείτε να προγραμματίσετε το δέκτη UniRec1 να μάθουν το τηλεχειριστήριό σας (αυτό μπορεί να μάθει σχεδόν οποιοδήποτε τηλεχειριστήριο στην αγορά, τόσο το πάγιο όσο και κυλιόμενο κωδικό) και όλοι θα πρέπει να λειτουργούν τέλεια. Δείτε τις παρακάτω οδηγίες: πολύ εύκολο, έτσι δεν είναι;
---

FAAC 531 stjórnandi borð inniheldur móttakara sem hægt er að nota með FAAC SLH rollingcode sendum.
Ef þú þarft að stjórna þessu sjálfvirkni af öðru fjarstýringu, vegna þess að þú þarft að stjórna fleiri automations með sömu fjarstýringu, getur þú auðveldlega tengja Creasol UniRec1 móttakara fylgja leiðbeiningunum hér fyrir neðan.
Eftir að gera þetta, getur þú forrita UniRec1 móttakara til að læra fjarstýringu þitt (það getur lært nánast hvaða fjarstýringu á markaðnum, bæði fasta og veltingur code) og allt ætti að virka fullkomlega. Horfðu á leiðbeiningunum hér að neðan: mjög auðvelt, er það ekki?
---

FAAC 531 контролор одбор вклучува приемник кој може да се користи со FAAC SLH rollingcode предаватели.
Ако ви треба да го контролира овој автоматизација со друг далечински управувач, затоа што треба да го контролираат повеќе automations со истиот далечински управувач, можете лесно може да се поврзе Creasol UniRec1 приемник следејќи ги инструкциите подолу.
Откако ќе го направите ова, можете да програма на UniRec1 ресивер за да дознаете вашиот далечински управувач (тоа можат да научат речиси секој далечински управувач на пазарот, фиксни и тркалање кодот) и сите треба да работат совршено. Погледни го инструкциите подолу: многу лесно, не е тоа?
---

FAAC 531 kontrollerkort inneholder en mottaker som kan brukes med FAAC SLH rollingcode sendere.
Hvis du trenger å kontrollere dette automatisering av en annen fjernkontroll, fordi du trenger for å kontrollere mer automations med samme fjernkontroll, kan du enkelt koble til en Creasol UniRec1 mottaker å følge instruksjonene nedenfor.
Etter å ha gjort dette, kan du programmere UniRec1 mottakeren til å lære fjernkontrollen (det kan lære nesten alle fjernkontrollen i markedet, både faste og rullende kode) og alle skal fungere perfekt. Ser på instruksjonene nedenfor: veldig enkelt, er det ikke?
---

FAAC 531-controller-board is voorzien van een ontvanger die kan worden gebruikt met FAAC SLH rollingcode zenders.
Als u deze automatisering te beheersen door een andere afstandsbediening, omdat je nodig hebt om meer automatiseringen bedienen met dezelfde afstandsbediening kunt u eenvoudig een Creasol UniRec1 ontvanger volgens de onderstaande instructies.
Na dit te doen, kunt u het programma van de UniRec1 ontvanger op uw afstandsbediening (het kan bijna elke afstandsbediening in de markt, zowel vaste als rolling code leren) leren en alle zou perfect moeten werken. Kijk naar de onderstaande instructies: zeer eenvoudig, is het niet?
---

FAAC 531 board Kontroler zawiera odbiornik, który może być używany z FAAC nadajników SLH Rollingcode.
Jeśli chcesz kontrolować tę automatyzację przez innego pilota, bo trzeba kontrolować więcej automatyki z tego samego pilota, można łatwo podłączyć Creasol odbiornik UniRec1 zgodnie z poniższymi instrukcjami.
Po wykonaniu tej czynności można zaprogramować UniRec1 odbiornik nauczyć pilota (można go nauczyć prawie każdy pilot w rynku, zarówno stałych jak i Rolling Code) i wszystko powinno działać idealnie. Obejrzyj instrukcjami poniżej: bardzo proste, prawda?
---

FAAC 531 placa controler include un receptor, care poate fi utilizat cu emițătoare rollingcode FAAC SLH.
Dacă aveți nevoie pentru a controla acest automatizare de un alt control de la distanță, pentru că aveți nevoie pentru a controla mai automatizari cu telecomanda același, vă puteți conecta cu ușurință un receptor Creasol UniRec1 urmând instrucțiunile de mai jos.
După ce faci acest lucru, aveți posibilitatea să programați receptorul UniRec1 de a învăța de control de la distanță (se poate învăța aproape orice control de la distanță, în piață, atât fixe cât și codul de rulare), și toți ar trebui să funcționeze perfect. Uită-te la instrucțiunile de mai jos: foarte ușor, nu-i așa?
---

FAAC 531 плате контроллера включает в себя приемник, который можно использовать с передатчиками FAAC SLH Rollingcode.
Если вам нужно контролировать эту автоматизацию другого пульта дистанционного управления, потому что вы должны распоряжаться более автоматики с тем же пультом дистанционного управления, вы с легкостью можете подключить приемник Creasol UniRec1, следуя инструкциям ниже.
После этого, вы можете запрограммировать UniRec1 приемника, чтобы узнать пульта дистанционного управления (он может узнать практически любой пульт дистанционного управления на рынке как стационарных, так и плавающий код), и все должно работать отлично. Посмотрите на приведенные ниже инструкции: очень легко, не так ли?
---

ФААЦ 531 плоча контролера садржи пријемник који се може користити са ФААЦ СЛХ роллингцоде предајника.
Ако вам је потребно да контролишете овај аутоматизације другом даљинском управљачу, јер морате да контролишете више Аутоматика са истим даљинским управљачем, можете лако да повежете Цреасол УниРец1 пријемник пратећи упутства у наставку.
Након тога, можете да програмирате УниРец1 пријемник да науче свој даљински управљач (може да научи скоро било даљински управљач на тржишту, како фиксних и ваљање код) и све би требало да ради перфектно. Поглед на упутства испод: веома лако, зар не?
---

FAAC 531 Radič obsahuje prijímač, ktorý môže byť použitý s vysielačmi FAAC rollingcode polodlouhosrstých.
Ak potrebujete ovládať túto automatizáciu iným diaľkovým ovládaním, pretože musíte ovládať viac Pohony s rovnakým diaľkovým ovládačom, môžete ľahko pripojiť Creasol UniRec1 prijímač podľa nasledujúcich pokynov.
Potom, čo toto, môžete naprogramovať UniRec1 prijímač sa naučiť diaľkový ovládač (možno naučiť takmer žiadny diaľkový ovládač na trhu, a to ako pevné a rolovacie kód) a všetko by malo fungovať perfektne. Pozrite sa na nižšie uvedených pokynov: veľmi jednoduché, že?
---

FAAC 531 krmilnik krovu vključuje sprejemnik, ki se lahko uporablja s FAAC rollingcode oddajnikov SLH.
Če želite nadzorovati te avtomatizacije druga daljinskem upravljalniku, saj morate nadzirati več avtomatizacije z istim daljinskim upravljalnikom, lahko enostavno priključite sprejemnik Creasol UniRec1 po spodnjih navodilih.
Po tem, lahko programirate UniRec1 sprejemnik za učenje daljinskega upravljalnika (lahko izvedeli skoraj vse daljinskega upravljalnika na trgu, tako stalno in nepretrgano oznaka) in vse bi bilo odlično delo. Pogled na spodnjih navodilih: zelo enostavno, kajne?
---

FAAC 531 styrkort innehåller en mottagare som kan användas med FAAC SLH rollingcode sändare.
Om du behöver kontrollera detta automatisering av en annan fjärrkontroll, eftersom du måste kontrollera mer automatiseringar med samma fjärrkontroll, kan du enkelt ansluta en Creasol UniRec1 mottagare enligt instruktionerna nedan.
När du har gjort detta kan du programmera UniRec1 mottagaren att lära fjärrkontrollen (det kan lära nästan alla fjärrkontrollen på marknaden, både fasta och rullande kod) och alla bör fungera perfekt. Titta på instruktionerna nedan: mycket lätt, är det inte?
---

FAAC 531 kontrol kartı FAAC SLH rollingcode vericileri ile kullanılan bir alıcı içerir.
Eğer aynı uzaktan kumanda ile daha fazla otomasyon kontrol etmek gerekir, çünkü başka bir uzaktan kumanda ile bu otomasyon kontrol etmek gerekiyorsa, kolayca aşağıdaki yönergeleri izleyerek bir Creasol UniRec1 alıcısı bağlayabilirsiniz.
Bunu yaptıktan sonra, size uzaktan kumanda (sabit ve haddeleme kodu hem piyasada hemen her uzaktan kumanda öğrenebilirsiniz) öğrenmek ve tüm mükemmel çalışması gerekir UniRec1 alıcısı programlayabilirsiniz. Aşağıdaki talimatları bak: çok kolay, değil mi?
---

FAAC 531 платі контролера включає в себе приймач, який можна використовувати з передавачами FAAC SLH Rollingcode.
Якщо вам потрібно контролювати цю автоматизацію іншого пульта дистанційного керування, тому що ви повинні розпоряджатися більш автоматики з тим же пультом дистанційного керування, ви з легкістю можете підключити приймач Creasol UniRec1, слідуючи інструкціям нижче.
Після цього, ви можете запрограмувати UniRec1 приймача, щоб дізнатися пульта дистанційного керування (він може дізнатися практично будь пульт дистанційного керування на ринку як стаціонарних, так і плаваючий код), і все повинно працювати відмінно. Подивіться на наведені нижче інструкції: дуже легко, чи не так?
---

FAAC 531 vezérlő tábla tartalmaz egy vevőt, hogy lehet használni FAAC SLH rollingcode adók.
Ha meg kell, hogy ellenőrizzék ezt automatizálás másik távirányítóval, mert meg kell, hogy ellenőrizzék látna automatizálások azonos távirányító segítségével egyszerűen csatlakoztathat Creasol UniRec1 vevőt az alábbi utasításokat követve.
Miután ezt, akkor programozni UniRec1 vevőt, hogy megtanulják a távirányító (ez lehet tanulni, szinte minden távirányító a piacon, mind a vezetékes és a gördülő-kód), és minden tökéletesen kell működnie. Nézd meg az alábbi utasításokat: nagyon könnyű, nem igaz?
---
product_id=116