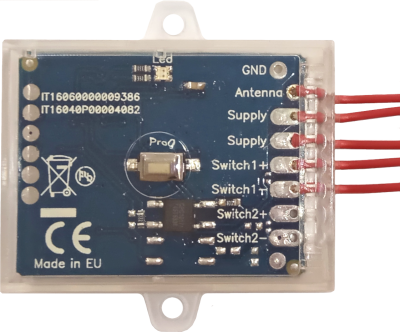 Creasol UniRec1: universal multi-frequency receiver, 1 channel
Introduction
This very small device, only 29x29x10mm, can be used with almost any radio remote control in the market which transmit in a frequency between 288 MHz and 868 MHz, AM and FM, fixed and rolling codes.
Also, it can receive in one or two different frequencies, even with different modulation.
It's very easy to be installed, using only two wires for the power supply and two opto-coupled wires which should be connected in parallel with the electronic board that should be remotely controlled.
The operating frequency, shown in the table, can be simply programmed using the Prog button, as like as the type of output which should be programmed as bistable, hold-to-run and as timer programmed from 250ms to 60 minutes.
In the same receiver it's possible to learn up to 60 different remote controls, even if different brand/model, both fixed and rolling code: the number of remote controls depends by the code complex, so, for example, it's possible to manage 40 KeeLoq rolling code remote controls.
When a known code is transmitted by the remote control, Creasol UniRec1 shorts the switch wires, simulating a pushbutton. The output is opto-insulated: maximum admitted current is 30mA and maximum voltage 40Vdc.
Creasol UniRec1 can be used to:
activate the "start" input of an electronic board used to open/close a gate, garage door, traffic barrier
activate an electronic device that is already controlled by remote controls operating in strange or dismessed frequency (418 MHz, 315 MHz, and so on...)
enhance the number and type of remote controls that can be used with a gate or garage door opener, by using different brand of existing remote controls even if they transmit in different frequencies.
Using your existing remote control, it's possible for example to:
open your garage door, using the existing electronic board and receiver;
open your gate which uses a different frequency or codings, just installing a Creasol UniRec1 or Creasol UniRec2 receiver connected to it;
open your pedestrian gate, installing a Creasol UniLock device;
open your entrance door, installing a Creasol UniLock device.
The product is made in Europe, provided in a nice transparent resealable recyclable clamshell, with instructions printed in several languages.
We also offer any customization to companies that like to purchase at least 100pcs: please send inquiry by email to This email address is being protected from spambots. You need JavaScript enabled to view it. , specifying company details and special requests.
Features
Very compact size: 29x29x10mm.

Can be supplied from 5 to 36Vdc and from 7 to 27Vac.

Frequency selected by the user: 433.42, 433.92, 434.15, 434.42, 868.3, 868.5, 868.8, 315*, 288*, 300*, 303*, 306*, 310*, 318*, 330*, 390*, 403.55*, 418* MHz. Frequencies marked with * cannot be used inside EU. The frequency of the remote control must be stable, so it does not work with remote controls without crystal or saw resonator (some bad remote controls operating around 300 MHz)!

OOK (AM) and FSK (FM) modulation is supported: FM with 2 different deviation value, 12,5 and 25 KHz; AM with standard and narrow bandwidth (higher sensitivity)

Twin frequency receiver: the user can select one or two frequencies/modulations as preferred, so it can receive, for example, at one single frequency or both 433 MHz OOK and 868 MHz FSK, or both 868MHz OOK and 315MHz OOK, or any combination of frequencies.

Works with a wide range of remote controls which transmit fixed or rolling code. See the compatibility table.

Manages different types of remote controls in the same time.

It's possible to learn one or more "master remote controls" that can be use just to enable learning for 10s without the need to access the receiver to press the Prog button.
Documentation

---
Application note UNIREC1_03: Using a single remote control with Hoermann and Ditec automations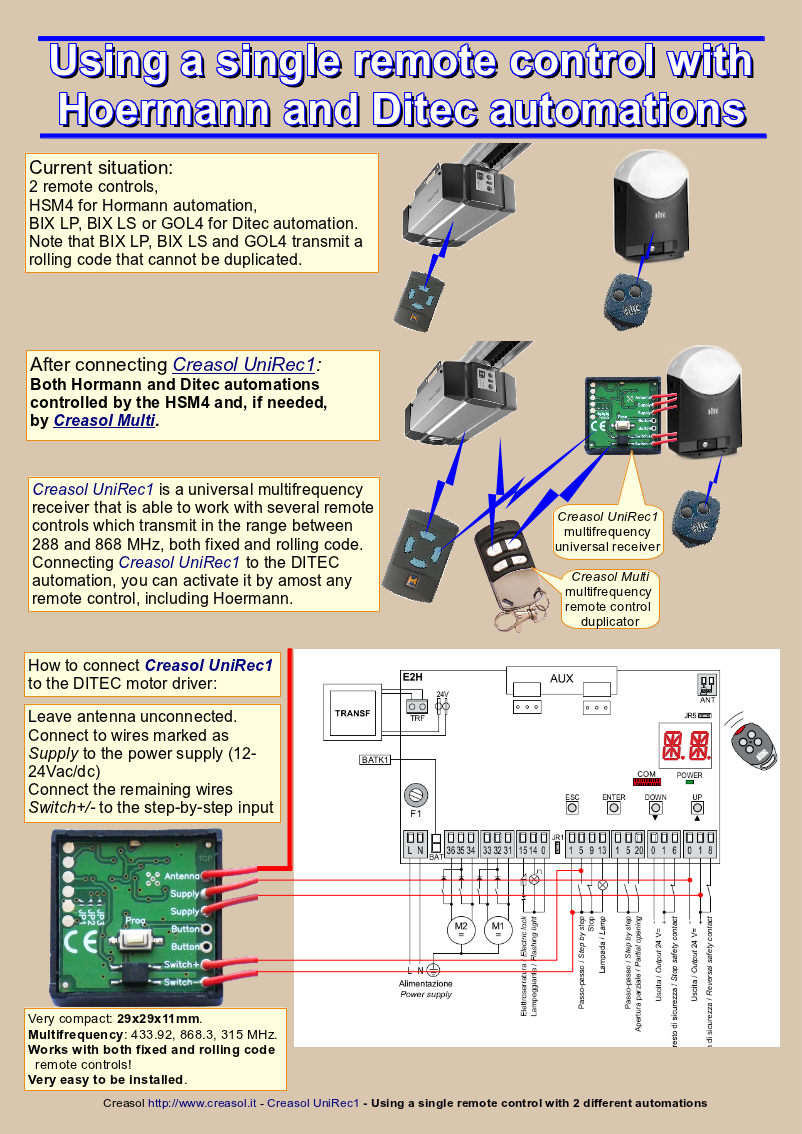 Download this application note in PDF format
Italiano
Questa application note mostra come sia possibile collegare la ricevente universale Creasol UniRec1 ad una automazione in modo che sia possibile con un unico radiocomando controllare due diverse automazioni. Nell'esempio, si vuole utilizzare il radiocomando Hormann per controllare un garage Hormann ed un cancello Ditec, tuttavia l'esempio è generalizzabile a quasi ogni tipo di automazione.
English
This application note shows how it's possible to connect the universal receiver Creasol UniRec1 to an automation so it's possible with a single remote control to activate two different automations. In this example it's shown how it's possible to use a Hormann remote control to open a garage door Hormann and a gate Ditec.
Français
Cette note d'application montre comment il est possible de connecter le récepteur universel Creasol UniRec1 à une automatisation de sorte qu'il est possible avec une seule télécommande pour activer deux différents automatismes. Dans cet exemple, il a montré comment il est possible d'utiliser un contrôle Hormann télécommande pour ouvrir une porte de garage Hormann et un Ditec porte.
Deutsch
Diese Application Note zeigt, wie es möglich ist, den universellen Empfänger Creasol UniRec1 an ein Automatisierungssystem zu verbinden, so es möglich, mit einer einzigen Fernbedienung ist auf zwei verschiedene Automatisierungen aktivieren. In diesem Beispiel ist es gezeigt, wie es möglich ist, eine Hormann Fernbedienung verwenden, um ein Garagentor Hormann und eine Gate-Ditec öffnen.
Español
Esta nota de aplicación muestra cómo es posible conectar el receptor universal Creasol UniRec1 a una automatización por lo que es posible con un solo mando a distancia para activar dos diferentes automatizaciones. En este ejemplo se muestra cómo es posible utilizar un mando a distancia Hormann para abrir una puerta de garaje Hormann y un Ditec puerta.
Português
Esta nota de aplicação mostra como é possível conectar o receptor universal Creasol UniRec1 para uma automatização por isso é possível com um único controle remoto para ativar duas automações diferente. Neste exemplo é mostrado como é possível usar um controle remoto Hormann para abrir uma porta de garagem Hormann e Ditec portão.
---
---