Introduction
Creasol DomBus devices are home automation modules that manage inputs, outputs and sensors, and can be used with Home Assistant and Domoticz controllers.
Actually se produce the following modules:
Modules are explained at https://www.creasol.it/domotics
Using DomBus modules it's possible to make a full domotic system: the following picture describe a real example of a house using Domoticz + DomBus modules to control:
full alarm system, with PIR and magnetic contact sensors on windows/doors/blinds
climate control (heating and cooling by heat pump) with optimizations to use the most energy from renewable (photovoltaic system on the roof)
ventilation control,

disabling air renewal, in winter, when the wind blows from certain directions (to prevent combustion fumes from entering the house)

lights on/off control
230V sockets that can be enabled/disabled by smartphone
garden irrigation and rainwater tank level measure/control
door bell control: when someone ring the bell, send a picture to the smartphone by Telegram. Obviously, it's also possible to open the gate or pedestrian gate by smartphone
when presence/movement is detected outside, with the alarm enabled, grab a short 20s video from IPcam near the outdoor sensor and send video to Telegram.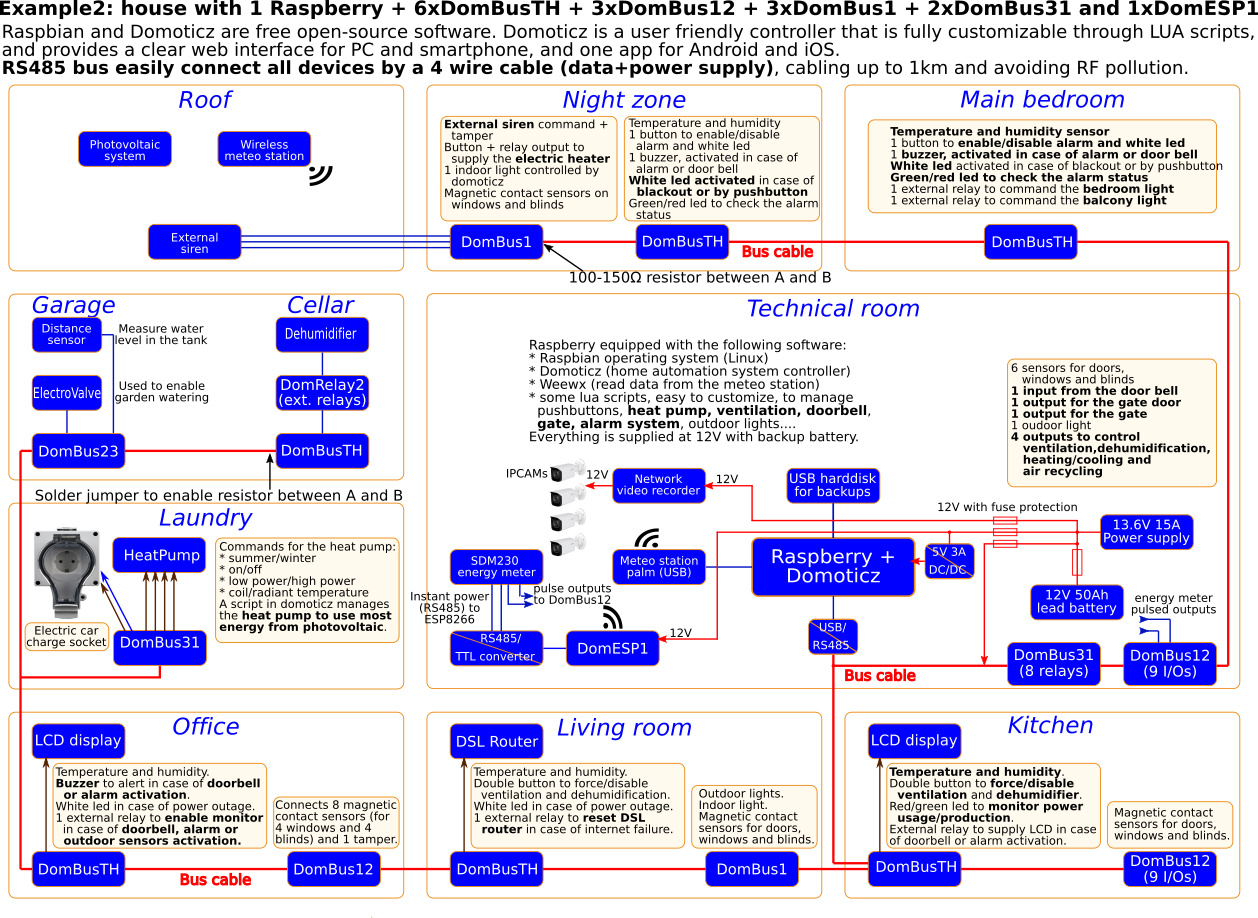 DomBusTH is a really powerful and cheap board, to be mount on a blank cover with a 4mm hole in the center, that measures emperature and humidity, and have 3 LEDs: red and green LEDs are used to notify alarm, ventilation or electricity power import/export status, and white led is used as night light and emergency light (in case of blackout). Also, it can be connected to piezo buzzer for sound alerts, pushbutton switches, and external relay module DomRelay2 to control 230V sockets or roller shutter motor.
Also, GPIO/input of DomBus modules can be connected to energy meter with pulsed output, to measure the current imported/exported power. As written above, it's possible to show the actual imported/exported power on RED/GREEN Leds of a DomBusTH module.
DomBus31 has excellent power management so the power consumption is less than 10mW in standby (with outputs OFF), and less than 500mW with ALL relays ON!! Also, it's possible to use the 10A relays on board for electric vehicle charge (8-10A max) using a script that optimize charging when there is enough energy from photovoltaic, and control the ADSL/wireless router, resetting it in case of internet connection failure.
Installation
DomBus component for Home Assistant can be installed by HACS (Home Assistant Community Store) or by hand: both ways are very simple.
Follow the instructions in the GitHub repository https://github.com/CreasolTech/home-assistant-creasol-dombus