We produce some reliable and optimized modules that can be used with Domoticz , the easy open-source home automation system controller.
Our modules can be connected to the domotic controller by RS485 bus: with a cheap and thin 4-wire shielded cable (2x0.50 + 2x0.22mm², commonly used for alarm systems), it's possible to carry both data and power (12 or 24V) to all modules. Using a 12Vdc power supply with backup battery, your domotic system will work even in case of power outage!
DomBus modules are plug&play: just connect it to the bus and Domoticz will find it, adding only a single module port. Select that device, change address (by writing the new address in Domoticz switch description), then you'll find all module ports in Domoticz.
Each port can be easily configured (as input or output, analog or digital, buzzer/counter/pushbutton, ...) by clicking Edit on the Domoticz switch and writing the configuration on the Description field.
Also, DomBus modules support the possibility to send commands (DCMD) to other DomBus modules (or to itself) when an event occur, to activate one or more outputs automatically, without the need to have a command from Domoticz. In many cases, it's easier to configure DCMD commands instead of programming Domoticz by scripts or blocky! Also, this feature works even when Domoticz is OFF, with a very low latency.
This module includes 6 relays with 250V 5A capability, and 2 relays with 250V 10A capability. The module consumes less than 10mW in stand-by and less than 500mW with all relays ON!
Please note that some products in the market consumes more than 2W with only 4 relays ON, or even 12W with 8 relays ON!!
It can be mounted on a din rail, as well as in wall boxes.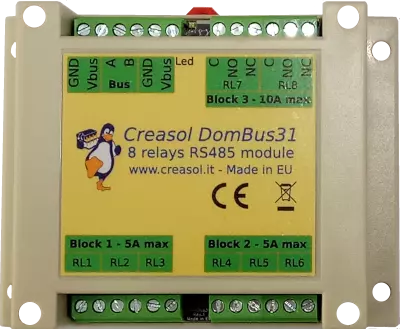 This is a very powerful module with many functions. Behind the 2 relay outputs, it includes a 250V optoisolated input, 2x 12/24V optoisolated inputs, 2x IOs, 2 analog outputs 0-10V, optionally 2 open-drain outputs (that can be connected to external relay or DomRelay2 module, shown on the right: in this case you can get totally 4 relays!), and 1 Led stripe dimmer output (with mosfet already included).
Power consumption: less than 10mW in stand-by. Dimmer capability: 12A 30V.
The following application notes shows how DomBus23 can be used to control up to 3 led stripes (1 led strip controlled directly, using the internal high power mosfet, and 2 external led controller by its 0-10V outputs), and how to interface a gate opener or garage door opener.
This is a very compact module designed to interface low voltage inputs, for example magnetic contact sensors, PIRs, pushbuttons, ...
It includes 2 open-drain outputs suitable to control external relays. In the right side, the DomRelay2 module that has just 2 relays (12V coil, 250V 5A switching capability) that can be controlled by open-drain or open-collector outputs.
I/Os can be configured in many different ways, including digital and analog input, "twinbutton" mode (controls 2 pushbuttons with a single I/O), buzzer, counter (can be connected to a energy meter to get the imported and exported power/energy, or gas meter, water meter, ...).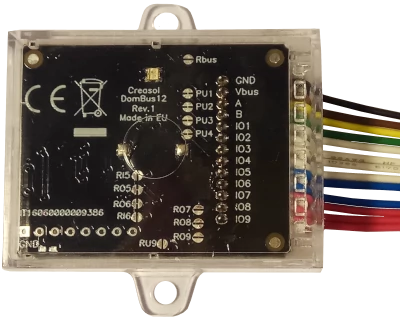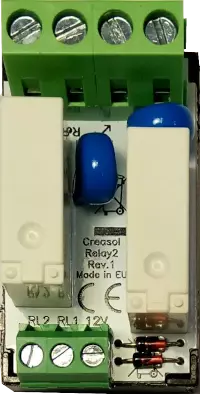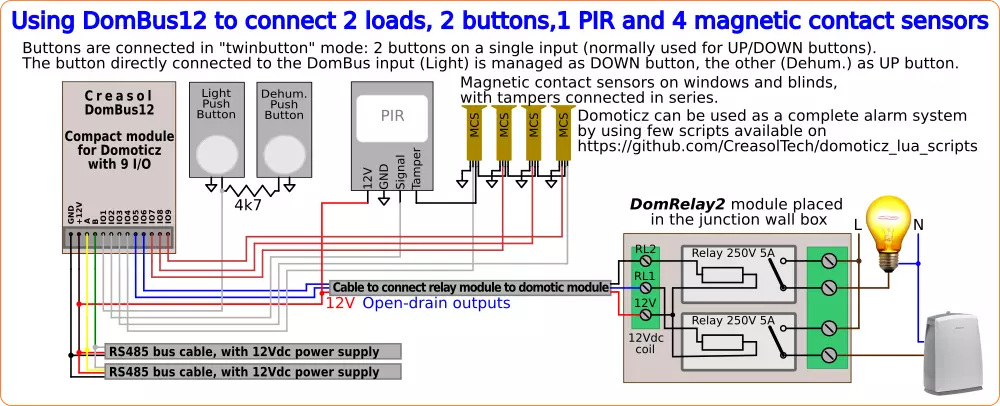 This board is designed to be applied to a blank cover with a 3-4mm hole in the center: it can be used to
measure room temperature and relative humidity
send notifications by red and green leds
emergency light, by white led (in case of blackout)
interface up to 4 pushbuttons or 4 double buttons (totally 8 buttons)
control a piezo buzzer
control external relays (even using the DomRelay2 board).
The following application note shows how it's possible to use this module in a bedroom, to control for example a roller shutter motor, a up/down pushbutton, a pushbutton to activate/disable alarm system, sense the temperature and relative humidity, use the LEDs included in the board for notifications (alarm ON and OFF, for example) and as emergency light (in case of power outage).