Introduction
A very good python plugin for Domoticz, written by Pierre Levres, permits to access your Kia or Hundai car from Domoticz and controls it.
The nice feature is the ability to check battery state of charge, and enable / disable charging based on the power availability. For example, during the day, if there is enough power from photovoltaic, Domoticz can enable battery charging improving the own-consumption.
Installation
#enter domoticz plugins directory
cd /home/pi/domoticz/plugins
#fetch the python module from GitHub
#if git command is not available, install it with apt install git (debian) or proper commands+

git clone https://github.com/PierreLevres/BlUVO.git
mv BlUVO/*list.txt ..
service domoticz restart
Then, enter Domoticz panel, go to Setup -> Hardware and enable the Kia UVO and Hyundai Bluelink assigning the right credential to access UVO/Bluelink API
Devices will be created, but need to be enabled manually through the Setup -> Devices panel.
The result is on the right.
Thanks a lot to Pierre Levres for the good plugin!!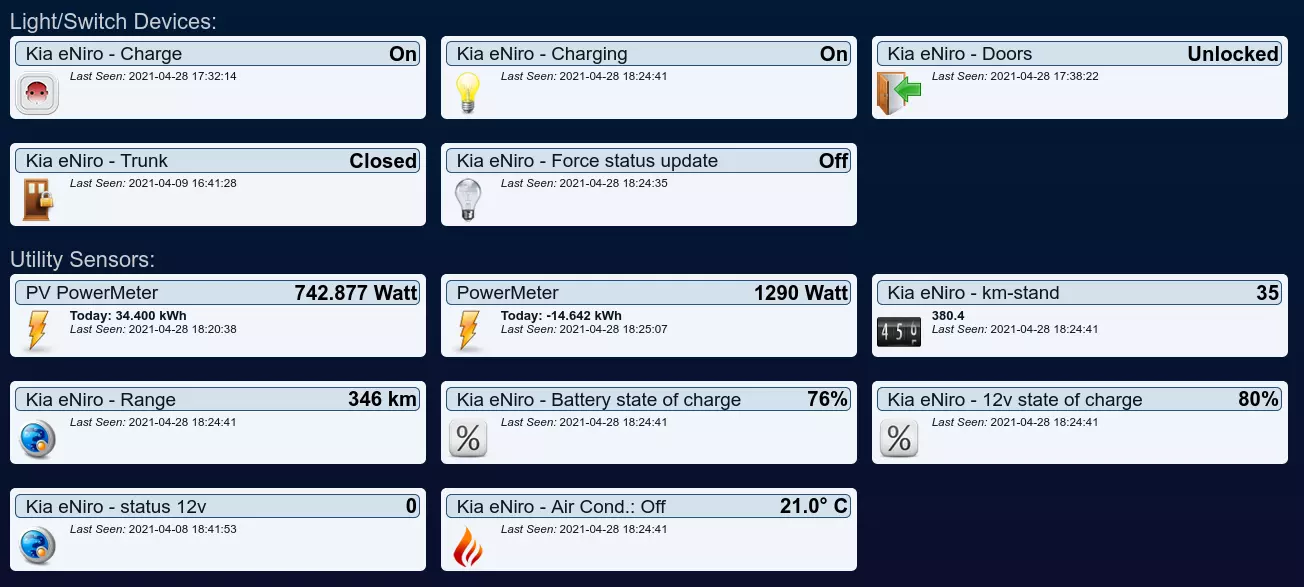 Smart battery charging
In this section we'll describe two ways to charge the electric vehicle.
Charging the electric car using standard EVSE cable provided with the vehicle
This is the simplest way to charge your car: using the cable provided with your vehicle, connected through a relay module tha turns ON/OFF charging base on the following parameters:
battery state of charge, compared with a min and max thresholds
power availability from photovoltaic system
Using domoticz and the LUA script_device_power.lua available at https://github.com/CreasolTech/domoticz_lua_scripts it's possible to control charging so the most energy is sourced by the solar photovoltaic.
The limitation of this method is that you have a fixed charging current set by hand on the EVSE cable.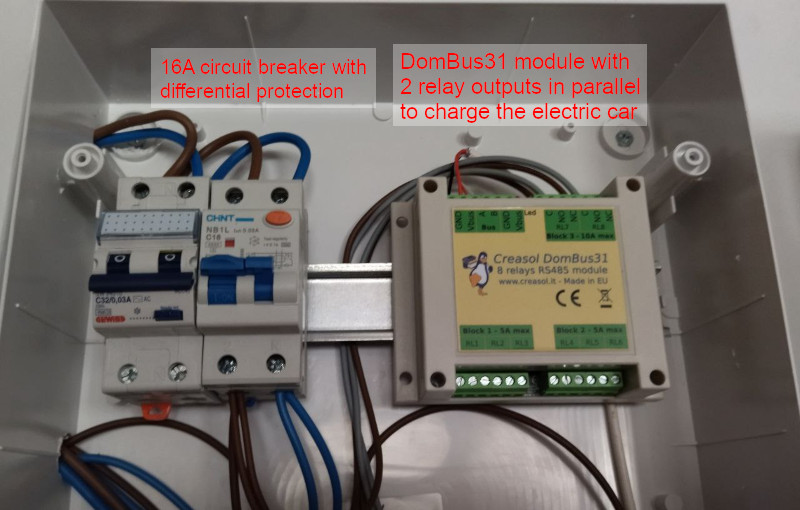 Charging the electric car using a smart EVSE module
In this case the charging current can be set by the domotic system in steps, from 6A to above, so it's possible to maximize the usage of renewable energy.
Also, it's possible to increase the charging current above 10-12A.
TODO

Warnings
Electric car is not a vacuum cleaner, that stay attached to the mains socket for 30 minutes!
Keep in mind that power dissipation on connectors (and cables) is computed as P=RI² where R is the connector/wire resistance, and I² is the square of charging current.
As result, when the charge current is above 8A the system must be checked to prevent power socket from burning and overheating.