Introduction
A very good python plugin for Domoticz, written by Pierre Levres, permits to access your Kia or Hundai car from Domoticz and controls it.
The nice feature is the ability to check battery state of charge, and enable / disable charging based on the power availability. For example, during the day, if there is enough power from photovoltaic, Domoticz can enable battery charging improving the own-consumption.
Installation
#enter domoticz plugins directory
cd /home/pi/domoticz/plugins
#fetch the python module from GitHub
#if git command is not available, install it with apt install git (debian) or proper commands+

git clone https://github.com/PierreLevres/BlUVO.git
mv BlUVO/*list.txt ..
service domoticz restart
Then, enter Domoticz panel, go to Setup -> Hardware and enable the Kia UVO and Hyundai Bluelink assigning the right credential to access UVO/Bluelink API
Devices will be created, but need to be enabled manually through the Setup -> Devices panel.
The result is on the right.
Thanks a lot to Pierre Levres for the good plugin!!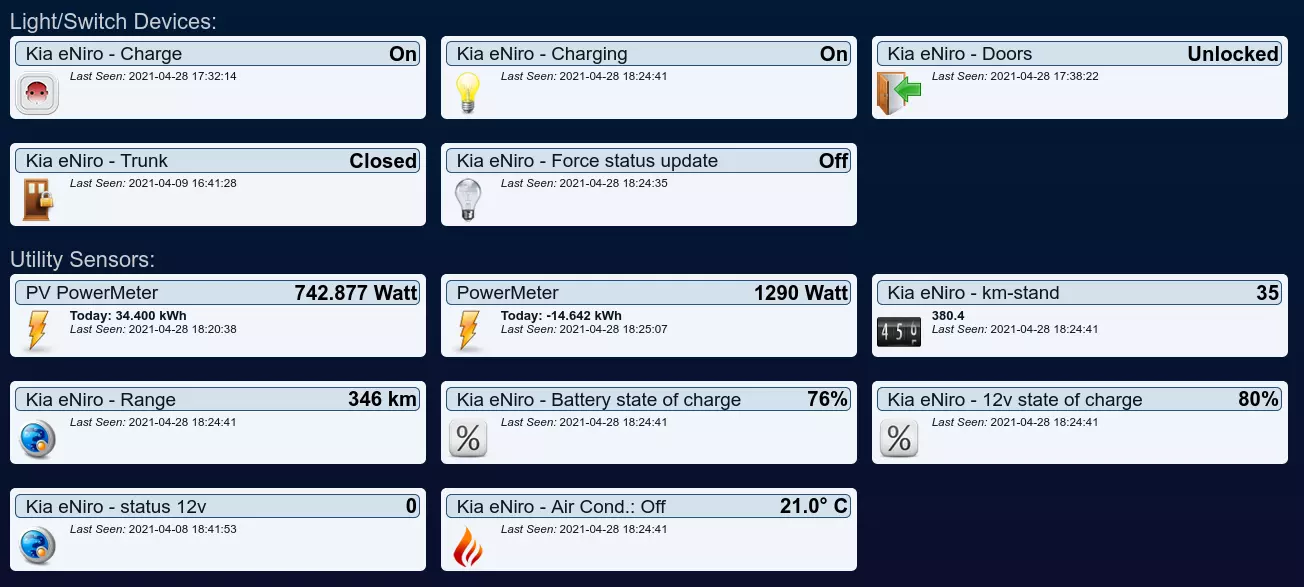 Smart battery charging
In this section we'll describe how to use the battery charger provided with the vehicles, with current limited to 8A or your desired value, to charge the vehicle to 80% (or your preferred value) only when there is enough power from the photovoltaic system.
TODO