Introduction
Home automation systems have two main goals:
make the building smart, adding new features and automations
save power consumption
but to get advantage of such technologies, it must be EASY!
Domoticz is a free open source software that works as a home automation system controller, and it's quite easy to be implemented by people with a minimum programming skill.
It's written in C++, requires very low resources, is multi-platform and manages a large quantity of domotic hardware (sensors, actuators, I/Os, ...).
Although it best matches a linux platform (e.g. Raspberry PI single board controller, with less than 10W power consumption, equipped with Raspbian Linux OS), it works also on Windows and MacOSX.
Pros
Optimized to work with computer with low resources: 0.5GB of RAM and 1GHz dual-core CPU is enough for almost any home automation system!
Uses less than 50MB of disk, excluding backups.
Written in a low-level programming language, C++: it's fast and tiny.
Supports several languages (python, perl, php, lua) for plugins (used to implement new hardware and protocols) and scripts (used to manage the installed devices).
Almost all configurations are done by WebUI: no need to edit files!
WebUI can be customized, and also it's possible to use Dashticz to implement a different WebUI (check picture )
Very stable
WebUI can be used by any web browser supporting HTML5, is responsive so it works well with PC, tablet and smartphone. Also, there are many APP for Android and iOS.
The webUI also integrates the floorplans/roomplans to show a layout with all sensors/actuators inside.
Cons
Lack of some hardware support
WebUI may look too simple
What can you do with Domoticz
Lights: turns ON/OFF by pushbuttons, at specific time (e.g. turn on 25 minutes after sunset and turn off 40 minutes before sunrise). Dimming and changing color.
Doorbell: captures a snapshot from IPcam when someone ring the bell, and send the picture to one people or a group by Telegram: also email and many other notification systems are implemented.
Gate, pedestrian door, garage door, main door can be open remotely (from smartphone, for example): when amazon delivery man ring the bell and you're away, you can see the picture on Telegram then you can open the gate to let him enter and deliver goods for you!
Weather sensors: outdoor temperature, humidity, pressure, rain, wind, wind direction, .... can be monitored and recorded in graphs
Monitors room temperature, relative humidity, CO2 and manages the heating/cooling/ventilation system in a smart way
Monitors the power consumption/production from/to electric grid, sending alert when power consumption reaches a threshold above which there will be an imminent power disconnection, and activating/disabling appliances to optimize power usage
When power from renewable sources is available (e.g. solar photovoltaic), it can manage the heat pump to consume most energy from renewable sources
Monitors the rainwater tank level used for garden and vegetable garden irrigation
Fully manage the alarm sensors (magnetic contact sensors, PIRs, radars, ...) and sirens, to get a fully functional and customizable burglar alarm system
...
Hardware support
Raspberry GPIOs
ESP8266 and derivated: cheap WiFi modules with several I/Os which can manage several device types
RFXcom, Zwave, Enocean wireless devices at 433/868/915 MHz
ZigBee devices, at 2.4GHz
several 1wire and I2C bus devices
Philips Hue (RGB led lamps)
LAN GPIOs and sensors (Denkovi, Lantronix, ...)
RS485 GPIOs and sensors (DomBus, ...)
several solar inverters
and many other devices and protocols.
Check the article that shows in brief how to design a domotic system using DomBus modules !!
Raspberry
Althought Domoticz works in many platforms, including Windows and Mac, a good solution is Raspberry, a single-board computer hardware with quad-core ARM MCU that is stable, cheap and normally consumes less than 3W.
Normally Raspberry is equipped with a Raspbian operating system (Debian GNU/Linux for Raspberry), and as any Linux operating system supports many services like web, dhcp, dns, ftp, Samba, mail, ... safely and reliably.
Some screenshots
Floorplans (thanks to Paolo Patt. for the video)
Electric car panel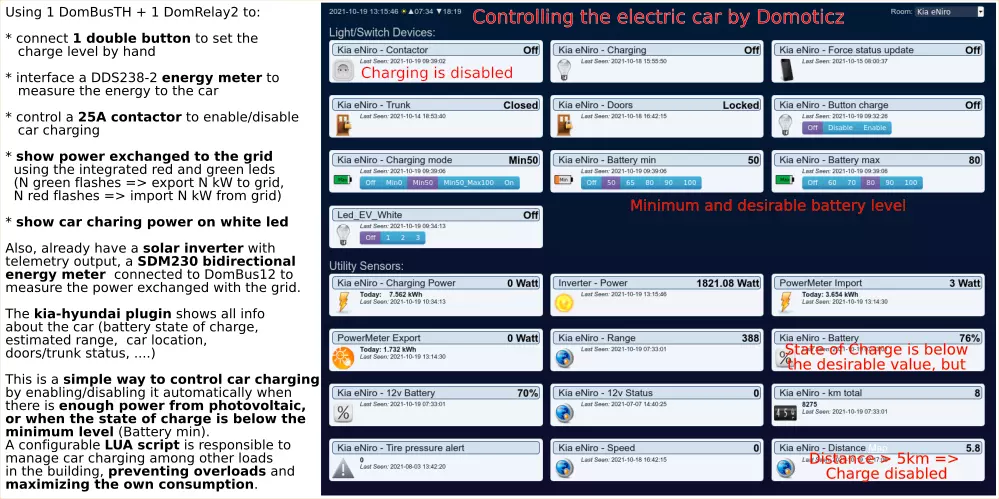 Heat pump panel