Dear Visitor,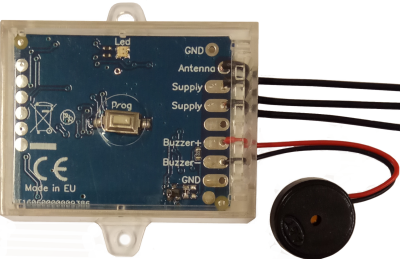 we're an italian company making products for home automation systems, and we'd like to present our new door opener receiver very easy to install (no external power source required, no battery, just 2 wires that should be connected to the existing pushbutton switch used to open the electric strike plate of the door).
Beside the standard UniLock universal receiver, designed to open a main door or pedestrian door activating an electric lock by using any existing remote control, now is available a new version that includes a buzzer that emits two tones when someone opens the door.
UniLock+buzzer can be helpful because it's possible to hear an alert when door opens.
* RX frequency and modulation are selectable by the end user.
* works with almost any remote control in the market, fixed and rolling code, AM and FM. You don't need to use a specific remote control!
* it's very easy to be installed: it has just 2 wires that should be connected to the existing pushbutton switch, used to open the main or pedestrian door. No need for external supply or battery!
* differentiated tones are emitted in case of opening by remote control or by existing button.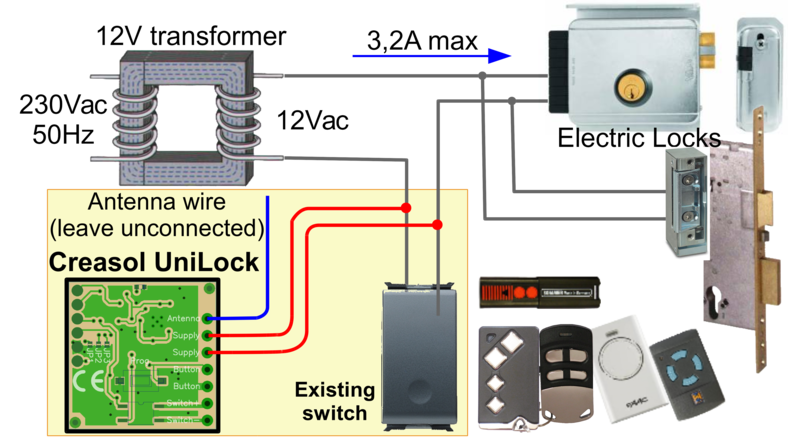 Feel free to contact us to get our catalog/pricelist and for any further request.
We can provide our product customized for your needs, with instructions in your preferred languages and with your logo.
Thanks, and have a nice day.
Paolo
Export department
Transmitters and remote control duplicators
Creasol Multi

MULTI-FREQUENCY: 433.92, 868.3, 286÷418MHz extra-EU
AUTOMATICALLY learn frequency and code
G Easy duplication
Creasol MultiST

Same features of Creasol Multi, with lightweight casing with soft-touch feeling, and optimized for 433.92 MHz (long range at 433MHz)
4 colors
Creasol Four

433.92 MHz
Long range (500m)
Nice look, easy duplication.
Creasol Sender

MultiFrequency 4-channels duplicator
Externally supplied, suitable to be installed into a car, in the fuse box, and controlled by highbeam lever or brake pedal.
TX power selectable
from short to very long range
Creasol SenderBatt

MultiFrequency transmitter/duplicator
Supplied by a 3V cell
TX power selectable
from short to very long range
Up to 4 external buttons, transmit different code when switch gets ON or OFF.
Universal multi-frequency receivers
Universal receivers that works with almost every remote control in the market, AM and FM, fixed and rolling codes
Supported frequencies: 433.42, 433.92, 434.15, 434.42, 868.3, 868.5, 868.8, 288, 300, 303, 306, 310, 315, 318, 330, 390, 403.55, 418 MHz
The user can program 1 or 2 frequencies: for example it's possible to set the receiver to work at 433.92 MHz AM and 868.8 MHz FM.
Creasol UniRec1

1 channel universal receiver
Very compact: 29x29x11mm.
Can be programmed to work 1 frequency only, or in 2 frequencies simultaneously
Creasol UniRec12

2 channels compact universal receiver
Size: 38x28x10mm
Can be programmed to work 1 frequency only, or in 2 frequencies simultaneously
Creasol UniRec2

2 relay-outputs (250V 5A) universal receiver
Manages up to 60 or 1000 different remote controls, and supports one or more Master remote controls.
Wide power supply range and low power consumption/dissipation.
Creasol UniLock

Very compact electric lock opener
Fits everywhere: 29x29x11mm
Only 2 wires, can be installed in less than 10 minutes, and permit to open the main door or gate door or any other system using an electric lock or electric strike plate.
Domoticz and home automation systems
Devices for home automation systems, designed to be easy and cost effective.
Working with Domoticz, the open source domotic controller for Raspberry (and other Linux hardware) that is fully controllable by web browser and smartphone app, sending notifications/alarms by Telegram, email, ...
Creasol DomBus1

Easily connect one or more devices to Domoticz controller, using a 4 wire cable (2 wires for 5-24V power supply and 2 wires for serial communication), to expand the number of I/O and easily connect sensors, lights, motors to the Domoticz controller.
Designed to be reliable and minimize power consumption.
Easy configuration through the Domoticz switch web panel.
Application: control indoor and outdoor lights, water pump, gas/electric heater or heat pump, ventilation, alarm sensors, and much much more.
Creasol DomESP1


Board designed for ESP8266 NodeMCU V3 module.
Integrates the whole circuitry to manage digital inputs, one analog input, 4 relay outputs, 1 low voltage output, I2C bus, 1wire bus and optionally one serial port (UART).