Dear Visitor,
we've redesigned our SenderBatt device to fit the new transparent enclosure.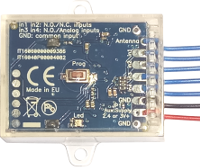 Now this device, supplied by internal 3V cell CR2032, can be connected to 1÷4 external switches and/or pushbutton switches.
Each channel can be configured to transmit when switch goes ON, OFF, ON and OFF; in the last case, code can be different when switch goes ON or OFF: for example, when connected to a micro-switch applied to a door or window, it transmits a code when door/window get open, and another code when door/window get closed.
It can be used with any automation with a receiver that uses a code format supported by SenderBatt, as like as our universal multifrequency receivers and door opener.
Internal battery life is normally greater than 2 years, and to get a very long battery life it's possible to supply SenderBatt by external 2.4-3V battery.
For any requests, feel free to contact us.
We can supply even small quantities, MOQ 5 pcs.
Also, it's possible to get instructions customized for you, with your preferred languages, logo, product name, ....
Best regards.

Transmitters and remote control duplicators
Creasol Multi

MULTI-FREQUENCY: 433.92, 868.3, 286÷418MHz extra-EU
AUTOMATICALLY learn frequency and code
G Easy duplication
Creasol MultiST

Same features of Creasol Multi, with lightweight casing with soft-touch feeling, and optimized for 433.92 MHz (long range at 433MHz)
4 colors
Creasol Four

433.92 MHz
Long range (500m)
Nice look, easy duplication.
Creasol Sender

MultiFrequency 4-channels duplicator
Externally supplied, suitable to be installed into a car, in the fuse box, and controlled by highbeam lever or brake pedal.
TX power selectable
from short to very long range
Creasol SenderBatt

MultiFrequency transmitter/duplicator
Supplied by a 3V cell
TX power selectable
from short to very long range
Up to 4 external buttons
Universal multi-frequency receivers
Universal receivers that works with almost every remote control in the market, AM and FM, fixed and rolling codes
Supported frequencies: 433.42, 433.92, 434.15, 434.42, 868.3, 868.5, 868.8, 288, 300, 303, 306, 310, 315, 318, 330, 390, 403.55, 418 MHz
The user can program 1 or 2 frequencies: for example it's possible to set the receiver to work at 433.92 MHz AM and 868.8 MHz FM.
Creasol UniRec1

1 channel universal receiver
Very compact: 29x29x11mm.
Can be programmed to work 1 frequency only, or in 2 frequencies simultaneously
Creasol UniRec12

2 channels compact universal receiver
Size: 38x28x10mm
Can be programmed to work 1 frequency only, or in 2 frequencies simultaneously
Creasol UniRec2

2 relay-outputs (250V 5A) universal receiver
Manages up to 60 or 1000 different remote controls, and supports one or more Master remote controls.
Wide power supply range and low power consumption/dissipation.
Creasol UniLock

Very compact electric lock opener
Fits everywhere: 29x29x11mm
Only 2 wires, can be installed in less than 10 minutes, and permit to open the main door or gate door or any other system using an electric lock or electric strike plate.